Republished courtesy of HOT Magazine, www.hotmagazine.website.
Hua Hin's Soi 94, very near the center of town, has transformed over the last several years to a foodies paradise.  It seems like at least 80% of the businesses on the street are restaurants and or bars.
One new entry to the restaurant scene is Table 94 and it has raised the bar on style and comfort over its Soi 94 competitors.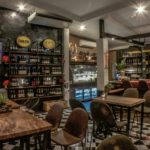 Table 94 is a wine bar with a mixed menu of Western and Thai food.  Khun Uraiwan "Wan" Yukong is the proprietor and interestingly her background is construction and she actually worked with her construction team to build her restaurant from the ground up, inside and out, right down to the tables and chairs.
The interior of her restaurant is quite trendy and the laid-back background music gives it a cool vibe.  Although she's not a seasoned restaurateur Khun Wan says she feels more comfortable in the kitchen making sure each order goes out properly presented or behind the bar mixing carefully crafted creative cocktails for her guests.  I tried one of her bloody mojito's and was pleasantly surprised that it was raspberry, not tomato juice which gave the drink its color and taste.
Wine is the top draw here but if you would like to also eat you have plenty of choices, both Western and Thai to choose from.  Khun Wan says it's pretty much a 50/50 split as to what comes out of the kitchen, Thai or Western.
The night I was there we enjoyed a few of their most popular dishes.  We began with two starters, their Grilled beef with spicy Sauce (Thai Beef) and their Antipasti tray which consisted of 4 types of cold cuts and 3 types of cheeses.  Both were pleasant with admirable proportions.  We then moved on to their Classic chicken Cesar salad with garlic Croutons.  In addition to the chicken and croutons it came with a generous sprinkling of bacon, tomato's and parmesan cheese shavings.
From there we moved on to their Spaghetti with bacon, garlic and dried chili.  A delightful dish with plenty of flavors with the classic Thai kick from the chili.  For the Mains, we went with their popular Premium Beef Tenderloin steak.  Imported from Australia, the beef was cooked to order and tender.  It came with a peppercorn sauce that pleasantly added to the flavor.  If you like your steak so tender it's like cutting thru butter, then you want to upgrade to their Special Premium Beef Tenderloin Steak.  A bump in price but worth it.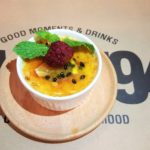 Never one to be able to say no to desert, we went with their Vanilla & strawberry crème brulee and were certainly pleased with our choice.
Reviewing the Thai side of the menu we were told that their Panang Gai and Tom Yum Khung are two of thier biggest sellers.  We'll be sure to give them a try next time.
Table 94 is a relaxed, upscale, air-conditioned Wine Bar & Restaurant on soi 94 next door to the Amara Resort and on the north side of the soi.  Drop ins are always welcome but reservations are recommended.
TABLE 94
16/124, Soi 94, Hua Hin
+66 (0)85 263 5533, +66 (0)98 908 4494
table94_huahin@hotmail.com